Gabriel Arévalo, M.D.
---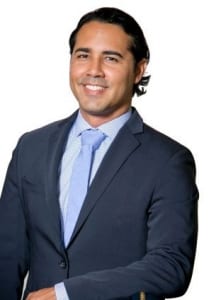 Gabriel Arevalo M.D. is fellowship-trained Robotic and Laparo-Endoscopic surgeon, specializing in complex hernia repairs and heartburn treatments. He currently holds a national leadership role as a member of the HERNIA TASK FORCE of the Society of American Gastrointestinal Endoscopic Surgeons. This means he has the expertise to educate surgeons across the world to improve quality of care for patients, with all types of hernia: umbilical, inguinal, incisional, recurrent and hiatal hernias.
Dr. Arevalo focuses on gastroesophageal reflux disease, gallbladder disease, bariatrics, diaphragm dysfunction and endoscopic treatments for achalasia and gastroparesis.
He has distinguished himself by his valuable contributions in research for improvements in hernia repair, gastroesophageal reflux disease, robotic surgery and endoscopy. He has authored several publications and invited commentaries to some of the most influential gastrointestinal journals in the world. He frequently presents at national and international surgical meetings.
Dr. Arevalo earned his medical degree at the University Evangelica of El Salvador. He returned to the United States and completed his residency at a ROBOTIC TRAINING EPICENTER for general surgery at St. Vincent Hospital in Indianapolis, Indiana.
Continuing his commitment to be at the forefront of advanced surgical care, he finished his fellowship at the prestigious University Hospital Cleveland Medical Center, learning from world renowned surgeons in the field of hernia surgery, bariatric surgery, robotics and endoscopy. He was a faculty for the department of surgery at Case Western Reserve University prior to his move to Houston.
Dr. Arevalo is able to offer his patients a wide variety of surgical options. In addition to advanced training in standard open and robotic general surgical procedures, such as gallbladder surgery, he is among the few physicians in Houston to perform:
Abdominal wall reconstructions for MASSIVE complex hernias.
POEM procedure to control achalasia.
Diaphragm pacing for diaphragm dysfunction.
Diseases & Conditions I Treat
Gallbladder Problems
Colon Cancer and Diverticulitis
Hernias – All types
Breast Lumps and Cancer
Stomach and Spleen Problems
Skin Lumps and Cancer
Quick Navigation